Description
Create an unique ambiance for people living and visiting your spaces with FLEXIA QUERCUS. This luminaire brings a hint of nature into the heart of your city with its plant-like form that enhances various urban spaces.
Create dramatic lighting scenarios with the Croma colour filters and give your city its very own identity.
Compatible with various suspended mounting options, FLEXIA QUERCUS blends into all urban spaces.
The FLEXIA QUERCUS luminaire is a game-changer for cities and architects willing to raise urban and outdoor activities to a higher level. With FLEXIA QUERCUS, design is experience.
Create your own lighting scenario
The FLEXIA QUERCUS luminaires can be customised with colour filters to create a special atmosphere for your events or your infrastructure. Highlight the DNA of your city or company with FLEXIA QUERCUS!
Tool-free and error-proof connection
To facilitate installation, FLEXIA QUERCUS is delivered pre-cabled. It also uses the patented IzyHub compact connection and connectivity module, designed for quick, error-proof wiring. The IzyHub eases the cabling and future maintenance/upgrade operations. FLEXIA QUERCUS includes an instant electrical disconnection on opening and a complete tool-free removable LED engine.
Consistency for all urban applications
FLEXIA QUERCUS is part of the FLEXIA range and shares the same technical architecture. This standardisation of components enables an easier and more cost-effective management of spare parts.
Leading the way for a more circular economy
Built with recyclable materials and with an architecture designed for easy service and refurbishment (tool-free opening, cabling and LED engine removal), FLEXIA QUERCUS is a role model for a circular economy.
FlexiWhite: the right colour temperature. Always.
Choosing the right colour temperature is never an easier decision. A cold white light optimises performance while a warmer one is more favourable for people and nature. What if you didn't have to choose? The Schréder FlexiWhite solution offers you the freedom to always choose the right colour temperature. With FlexiWhite, you have the flexibility to provide the right level of light with the right colour temperature in the right place and at the right time.
Characteristics
General Information
Recommanded installation height (m)
Electrical information
Performance
Luminaire output flux (lm)
Luminaire efficacy - up to (lm/W)
Optical information
Colour rendering index (CRI)
Upward Light Output Ratio (ULOR)
Housing and finish
Optic
Tightness level
Impact resistance
Lifetime
All configurations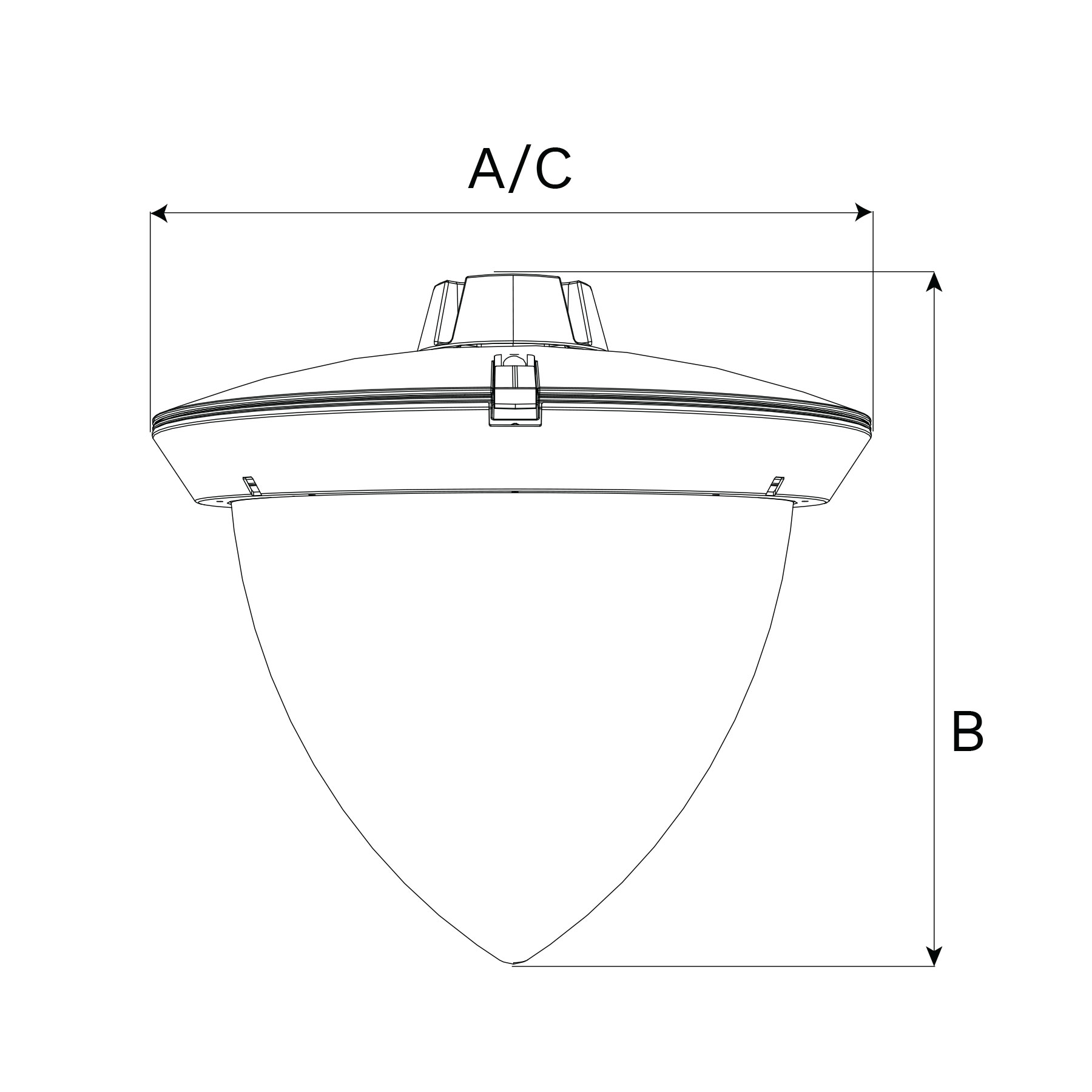 Dimensions and mounting
AxBxC (mm | inch)
FLEXIA QUERCUS MIDI - 504x490x504 | 19.8x19.3x19.8
FLEXIA QUERCUS MAXI - 610x693x610 | 24.0x27.3x24.0
Weight (kg | lbs)
FLEXIA QUERCUS MIDI - 11.5 | 25.3
FLEXIA QUERCUS MAXI - 16.8 | 37.0
Mounting possibilities
Side-entry slip-over – Ø60mm
Side-entry penetrating – Ø48mm
Control systems
Control options of FLEXIA QUERCUS
FLEXIA QUERCUS offers the following dimming/control options:
• Custom Dimming Profile
• 1 - 10V
• DALI
• Remote management
• Bi-power
• AmpDim

NEMA or Zhaga, Schréder gives you complete control. We don't want to lock you in with a proprietary control system. This is why FLEXIA QUERCUS not only offers one but two connectivity options based on industry standards. To remain as open and interoperable as possible, FLEXIA QUERCUS is available with NEMA or Zhaga sockets and is ZD4i certified. The FLEXIA QUERCUS control options enable you to connect your lighting scheme and to be Smart City ready.
Installation and Maintenance
FLEXIA QUERCUS is available with various suspended mounting options, fixed or orientable.
FLEXIA QUERCUS is also designed for side-entry. Its adaptive technology makes FLEXIA QUERCUS compatible with various mounting designs such as 60mm diameter enveloping fixation or 48mm penetrating spigot, with and without swiveling.
Poles and Brackets
FLEXIA QUERCUS+SOFIA: the perfect match
FLEXIA QUERCUS takes advantage of a dedicated range of brackets to provide elegant solutions for multiple configurations. The SOFIA brackets include single, double, wall and side variants to meet the requirements of your applications.
Accessories and versions
Communities love to share meaningful moments and celebrate special events. With the Croma colour filters, it only requires 10 seconds, without any tools, for FLEXIA QUERCUS to change colours and create engaging public spaces, boosting social interaction and fostering a sense of spirit and pride.
Who said luminaires were boring?
The FLEXIA QUERCUS luminaires are available with a diffuse protector for more visual comfort.