CITEA NG2
Iconic urban luminaires combining appealing design and state-of-the-art LED technology
Description
CITEA NG2 enhances urban environments by creating spaces where people feel safe and good, making your city a more attractive place to live and to visit. With a timeless, elegant design, CITEA NG2 takes advantage of the latest LED technology to efficiently light any kind of urban space while generating significant energy savings. 
CITEA NG2 is available in two sizes (Mini and Midi) to meet the various lighting requirements of the city.
Combined with elegant poles and brackets, the CITEA NG2 lighting solutions create aesthetic designs to enhance numerous urban areas, such as large squares, streets, avenues, pedestrian areas, and residential zones.
Designed to incorporate multiple connectivity options, the CITEA NG2 street luminaires are ready for your future Smart City projects.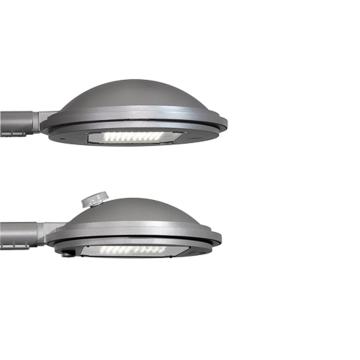 The next generation of lighting

CITEA NG2 was developed to incorporate the latest technological innovations into a classic Schréder luminaire. This new generation benefits from a technical makeover to ingeniously integrate brand new photometric engines and connectivity features.
CITEA NG2 perfectly combines optical innovations, connectivity, and energy savings in a pure aesthetic design.
These urban luminaires are an advantageous lighting solution for replacing traditional discharge lamps, to bring your cities into the next lighting generation.

Improve lighting management

The CITEA NG2 luminaires contribute to effective management of finances and responsible use of energy thanks to their control options. As an option, these urban street luminaires can be equipped with a NEMA 7-pin or a double Zhaga socket to open up various possibilities to smart lighting management.
Bring urban lighting into the smart technology era and create cities where people feel comfortable and safe.

Enhance safety in urban spaces

Local authorities care for their citizens by providing infrastructure that makes them feel safe and comfortable. From bicycle paths to pedestrian crossings and wide boulevards, this range of outdoor LED luminaires creates environments where motorists, cyclists and pedestrians feel safe.

Contribute to a circular economy

The CITEA NG2 street luminaires meet circular economy requirements thanks to the FutureProof concept. The lower door can be easily removed, allowing practical on-site replacement at the end of its service life or the integration of future technological developments.
In addition, the luminaires are composed of durable, recyclable materials - a painted aluminium body with a flat tempered glass protector.
Schréder EKINOX powered by Sunna Design is an eco-friendly solar lighting solution that combines renewable energy production with Schréder's renowned LensoFlex®4 photometries, achieving optimal lighting levels while reducing carbon emissions and preserving the environment. This stand-alone solution consists of three SE smart solar kits (with two battery capacity options and intelligent in-built electronics) paired with dedicated CITEA NG2 luminaires that are equipped with 20 to 80 high-power LEDs.
Get your starlit sky back
The International Dark-Sky Association (IDA) is the recognised authority on light pollution. It provides tools, ressources, and a certification program for industries and companies willing to reduce light pollution. At Schréder, we are convinced that a more responsible lighting has the potential to preserve the environment. We are fully committed to reducing light pollution by joining the IDA's certification program. Our approved range of luminaires complies with the IDA's program of approval to deliver a light that protects the environment in all respects. Get your starlit sky back with the CITEA NG2 lighting solutions.
Characteristics
General Information

Recommanded installation height (m)
Electrical information

Electrical class

Nominal voltage

Socket option(s)

Associated control system(s)

Sensor(s)
Performance

Luminaire output flux (lm)

Luminaire efficacy - up to (lm/W)
Optical information

LED colour temperature

Colour rendering index (CRI)

Upward Light Output Ratio (ULOR)

ULR

ULR may be different according to the configuration. Please consult us.

ULOR may be different according to the configuration. Please consult us.

Meets IDA Dark Sky requirements when fitted with LEDs of 3000K or less.
Housing and finish
Lifetime

All configurations

Lifetime may be different according to the size/configurations. Please consult us.
Dimension and mounting

Dimensions and mounting

AxBxC (mm | inch)

CITEA NG2 MINI : 500x160x500 | 19.7x6.3x19.7

CITEA NG2 MIDI : 595x185x595 | 23.4x7.3x23.4

Weight (kg | lbs)

CITEA NG2 MINI : 12.0 | 26.4

CITEA NG2 MIDI : 15.0 | 33.0

Mounting possibilities

Side-entry slip-over – Ø60mm

Post-top slip-over – Ø60mm

Side-entry penetrating – Ø48mm
Control systems
Control options for CITEA NG2
The CITEA NG2 urban lighting solution is available with the following dimming/control options:
• Bi-power
• Custom dimming profile
• AMPDIM
• 1-10V
• DALI
• Remote management

These luminaires can be equipped with a NEMA or a Zhaga socket for more connectivity options.
Control link
Installation and Maintenance
Multiple mounting options
CITEA NG2 offers versatile installation thanks to a multitude of mounting options to suit the exact needs of your project.

Side-entry mounting:
• Slip-over on a Ø60mm spigot
• Penetrating for a Ø60mm tube
• Direct (square 40x40mm)

Side-entry mounting with knuckle joint:
• Slip-over on a Ø60mm spigot
• Penetrating for a Ø60mm tube
• Direct (square 50x60mm)
• 1" gas tube
• Direct on wall or pole

Post-top mounting:
• Direct
• Single (one luminaire) with a 5° inclination, on a Ø60mm spigot
• Double (two luminaires) with a 5° inclination, on a Ø60mm spigot

Suspended mounting:
• Catenary
• 1" gas tube
• With a knuckle joint 1" gas tube
Poles and Brackets
Created by Jean-Michel Wilmotte, the EQUINOXE ensemble, fitted with the CITEA NG2 luminaires, is particularly suited to lighting avenues, boulevards, or public squares.
The EQUINOXE ensemble is comprised of a cylindrical/conical lighting column made from galvanised, thermolacquered steel and an aluminium bracket.
CITEA NG2 can be installed on various VECTOR brackets (single, double or wall) for perfect integration into the urban landscape.
The CITEA NG2 urban luminaire can also be combined with the successful FLO brackets for a sleek, modern design.