OMNISTAR
Unrivalled modular lighting solution for high-power industrial, tunnel, large area and sport applications
Description
OMNISTAR is an unrivalled indoor and outdoor luminaire. It offers a fast ROI as it delivers efficient lighting with high energy savings and low maintenance requirements, even in the most demanding environments.
Thanks to its robust design, high impact resistance and low weight, the OMNISTAR LED luminaire can withstand high wind and vibrations. It has successfully passed the ball-throwing test, making it ideal for lighting warehouses, industrial halls, tunnels, sports arenas, airports, car parks, road and motorway junctions, toll plazas and even roundabouts.
An explosion-proof version is available for environments where it is required.
With recyclable parts and high-energy efficiency, OMNISTAR enables you to reduce your carbon footprint.
This lighting solution is proposed with various mounting accessories to suit the specific needs of your project.
OMNISTAR has various dimming options and is connected-ready for your future Smart City or Tunnel requirements.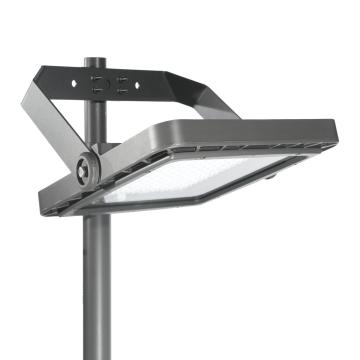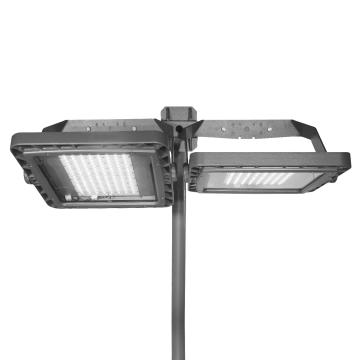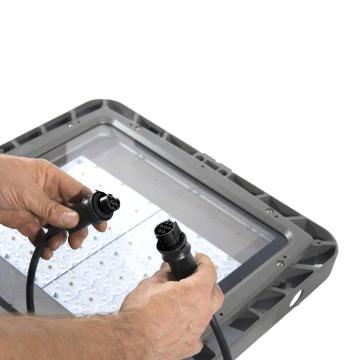 Cost-effective LED lighting solution

Equipped with the latest cutting-edge technology for high performance, a long lifespan and an effective thermal management, the OMNISTAR guarantees a performing solution that will reduce energy and maintenance costs as well as decrease the quantity of luminaires that need to be installed.

Modular approach for performance and flexibility

This modular luminaire is available with a variety of mounting and inclination options. It can be surface mounted, suspended or installed on a high-mast with a bracket of one, two or three units.
OMNISTAR can be fitted with BlastFlexTM, LensoFlex®2, LensoFlex®3 and LensoFlex®4 photometric engines, as well as reflectors (ReFlexoTM) for sports, tunnel and apron lighting applications. OMNISTAR also offers counter beam lighting solutions for tunnels.

Versatile lay-outs thanks to remote gears

With its remote gears, OMNISTAR enables any type of configuration, ensuring flexibility to manage crucial aspects such as weight, access, environment lay-out and footprint. It helps the design in demanding applications such as tunnels and high-mast installations. Quick connectors on both the luminaire and the gear box facilitate the installation.

A long-lasting solution

OMNISTAR is designed to operate reliably in every part of the world, even in the most extreme conditions. It offers a high tightness level and high impact/vibration resistance to maintain performance throughout its life cycle and reduce maintenance operations. OMNISTAR is also protected against electrical surge.
Industrial lighting solutions for indoor and outdoor environments
OMNISTAR is an ideal alternative for lighting a variety of indoor and outdoor industrial applications such as docks, warehouses, loading bays, industrial halls, and large car parks. It ensures low energy consumption, improved visibility with white light, limited maintenance, and a longer lifespan.
This LED luminaire has been designed to operate even in extreme temperatures such as hot production lines or cold warehouses.
Perfect for sports lighting
OMNISTAR is also perfect for lighting sport venues including large stadiums when excellent colour rendering and vertical illumination are required for high-definition TV recording and broadcasting, to avoid flickering and capture vivid images for viewers at home.
Available with precise photometric distributions, the OMNISTAR guarantees visual comfort, excellent visibility, uniformity and colour rendition for both the players and the spectators so that they may enjoy every minute.
Meeting the different tunnel lighting requirements
The OMNISTAR is an excellent alternative to HID lamps, providing the adequate lighting levels for the critical entrance area of a tunnel.
It is designed to meet the different tunnel lighting requirements with easy eye adaptation, low glare and excellent visibility for safety, while offering a low total cost of ownership.
With its optimised power/form factor and resistant housing, the OMNISTAR LED luminaire is built to withstand harsh operating conditions over time.
Thanks to a series of dedicated control systems, the OMNISTAR solution can provide various lighting scenarios for your tunnel.
Avoid any risk of danger with the explosion-proof version
A potentially explosive atmosphere exists when a mixture of air gases, vapours, mists, or dusts combine in a way that can ignite under certain operating conditions.
The OMNISTAR explosion-proof version was specifically designed for potentially volatile atmospheres, which can be found in offshore platforms, petrochemical plants, mines, flour mills and industrial halls.
OMNIBOX: flexibility and easiness
The OMNIBOX is a separate driver box that can be easily plugged in to an LED optical unit with quick connectors to facilitate both installation and access for maintenance operations. One OMNIBOX can host the drivers and power supply of up to 4 OMNISTAR luminaires.
Characteristics
General Information

Recommanded installation height (m)
Electrical information

Electrical class

Nominal voltage

Socket option(s)

Associated control system(s)
Performance

Luminaire output flux (lm)

Luminaire efficacy - up to (lm/W)
Optical information

Colour rendering index (CRI)

Upward Light Output Ratio (ULOR)
Housing and finish

Optic

Tightness level

Impact resistance
Lifetime
Operating conditions
Dimension and mounting

Dimensions and mounting

AxBxC (mm | inch)

532x80x530 | 20.9x3.1x20.9

Mounting possibilities

Side-entry slip-over – Ø76mm

Direct mounting on ceiling

Bracket enabling adjustable inclination

Post-top slip-over – Ø76mm

Post-top slip-over – Ø76-108mm
Control systems
OMNISTAR offers a series of dimming/control options:
• Custom dimming profile
• 1 - 10V
• DALI
• Remote management
• DMX-RDM (entertainment)

OMNISTAR is connected-ready for your future Smart City or Tunnel requirements.

The OMNISTAR is also compatible with control systems for tunnels. The Advanced Tunnel Solution (ATS) has been designed to adapt the lighting levels according to conditions in the tunnel, to monitor the power consumption and to report any failures.
Control link
Installation and Maintenance
Easy installation of the optical units and gear box
The installation varies depending on the chosen version. OMNISTAR is composed of 1, 2 or 3 optical units, a remote gear box (OMNIBOX), cables with quick connectors and various mounting systems,
As an option, OMNISTAR is delivered with quick connectors for an effortless installation. The inclination angle can be easily adjusted on-site.
To facilitate mounting and maintenance, the OMNIBOX can be easily connected to the optical unit thanks to quick connectors.
Accessories and versions
The version with a steel wall bracket is available with fixations for post-top mounting on a Ø60 or Ø76-108mm pole or for side-entry mounting on a Ø60 or a Ø76mm spigot.
Large U bracket (wall mounting)
Thanks to the version with the large U bracket, the OMNISTAR is perfectly suitable for wall mounting.
Large U bracket (pole mounting)
The OMNISTAR can also be installed on a large U bracket for pole mounting with a U bolt (Ø76-108mm) or with a post-top adapter (for Ø60mm spigot).
Tiltable ceiling mounting
The tiltable ceiling version offers a higher flexibility for on-site adjustments when mounted on a ceiling
This version is ideal for ceiling installations that require the luminaire to stay in a fixed position.
The suspension chain is perfect for indoor environments such as industrial halls.
2 optical units, tilted together
A post-top mounting on a Ø76-108mm pole is available for 2 optical modules that need to be tilted
2 optical units, tilted separately
Another alternative is having the two optical modules that are tilted separately with a side-entry mounting on a Ø76mm spigot.
3 optical units, tilted together
For environments requiring a higher lighting level, it is also possible to have three optical modules that can be tilted together. This version is designed for a post-top mounting on a Ø76-108mm pole.