HESTIA GEN2
Elegant solution with cutting-edge technology
Description
HESTIA GEN2 is a fluid, light and elegant LED luminaire designed to bring a touch of refinement to your urban spaces while enabling you to benefit from the latest lighting innovations.
HESTIA GEN2 offers an economical lighting solution to enhance spaces such as streets, urban roads, bike paths, pedestrians areas and much more!
With its integrated cutting-edge technologies, HESTIA GEN2 provides an energy-efficent range of luminaires characterised by their photometrical performance and long lifespan. More than an aesthetic lighting solution, HESTIA GEN2 is a real connected-ready luminaire. Available with various remote control options, HESTIA GEN2 is the ideal tool for optimising urban lighting management and generating significant savings.
HESTIA GEN2 is definitively the lighting solution for creating ambiance while substantially reducing the energy consumption and the carbon footprint of your city!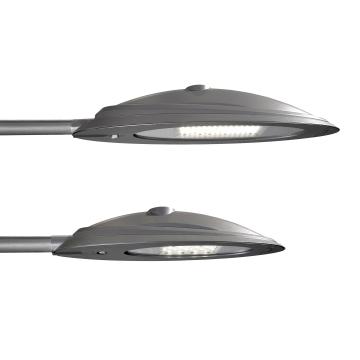 Fluid, elegant design

The HESTIA GEN2 Mini and Midi LED luminaires combine the advantages of the lastest lighting innovations and a refined design by the renowned designer and architect Elizabeth de Portzamparc. Its sophisticated design subtly blends into your urban landscapes to create attractive, comfortable and safe lighting.

More than a sophisticated luminaire

HESTIA GEN2 luminaires integrate the latest LED and remote control technologies. The combination of LEDs and control makes it possible to achieve high energy savings compared with luminaires equipped with traditional light sources. A PIR motion sensor can also be added to generate light only when it is absolutely necessary, thus allowing you to manage your lighting installations in an economical and responsible way.

A sustainable light source

HESTIA GEN2 is composed of durable and fully recyclable materials. With their various control options, HESTIA GEN2 luminaires allow effective management of your lighting installation, resulting in responsible use of energy. Access to the gear compartment is toolless, considerably reducing maintenance time and freeing up city streets for citizens.

Focus on easiness

HESTIA GEN2 is a light luminaire that is easy to install and maintain. Its long lifespan guarantees minimal maintenance. Access for maintenance and connection activities are toolless, using only a latch.
For safe and pleasant cities
At night, pedestrians and cyclists are more vulnerable and need perfect visibility. With a HESTIA GEN2 outdoor lighting solution, citizens benefit from safe and comfortable urban environments. This range of luminaires is equipped with the lastest Schréder LensoFlex® photometric engines, that have been specifically developed for lighting spaces where the well-being and safety of people are essential.
HESTIA GEN2 contributes to designing spaces where pedestrians, cyclists and motorists can interact in a reliable and convivial manner both by day and by night.
Get your starlit sky back
The International Dark-Sky Association (IDA) is the recognised authority on light pollution. It provides tools, ressources, and a certification program for industries and companies willing to reduce light pollution. At Schréder, we are convinced that a more responsible lighting has the potential to preserve the environment. We are fully committed to reducing light pollution by joining the IDA's certification program. Our approved range of luminaires complies with the IDA's program of approval to deliver a light that protects the environment in all respects. Get your starlit sky back with the HESTIA GEN2 lighting solution.
Characteristics
General Information

Recommanded installation height (m)
Electrical information
Performance

Luminaire output flux (lm)

Luminaire efficacy - up to (lm/W)
Optical information

Colour rendering index (CRI)

Upward Light Output Ratio (ULOR)

ULR

ULR may be different according to the configuration. Please consult us.

ULOR may be different according to the configuration. Please consult us.

Meets IDA Dark Sky requirements when fitted with LEDs of 3000K or less.

ULOR 0%: only for flat glass version.
Housing and finish
Lifetime

All configurations

Lifetime may be different according to the size/configurations. Please consult us.
Dimension and mounting

Dimensions and mounting

AxBxC (mm | inch)

HESTIA GEN2 MINI : 780x139x266 | 30.7x5.5x10.5

HESTIA GEN2 MIDI : 925x166x324 | 36.4x6.5x12.8

Weight (kg | lbs)

HESTIA GEN2 MINI : 7.0 | 15.4

HESTIA GEN2 MIDI : 10.0 | 22.0

Mounting possibilities

Side-entry slip-over – Ø34mm
Control systems
Control options for HESTIA GEN2
HESTIA GEN2 Midi and Mini are available with the following control/dimming options:
• Bi-power
• Custom dimming profile
• AMPDIM
• 1-10V
• DALI
• Remote management

As an option, the HESTIA GEN2 luminaires are available with a NEMA or a Zhaga socket, and a PIR motion sensor.
Control link
Installation and Maintenance
The HESTIA GEN2 street light offers slip-over mounting onto any bracket with a Ø34mm spigot by tightening 2 x M8 screws.
For flush mounting of the HESTIA GEN2, the main bracket arm should be 60mm outside the diameter.
Access for maintenance and connection activities is toolless, using only a latch.
Poles and Brackets
CONDOR poles and brackets
The CONDOR ensemble is available with either a single bracket, a double bracket or a wall bracket. This configuration is also a good solution for lighting urban streets and pedestrian zones.
The lighting column is designed with a height of between 4 and 8 metres. The Condor is comprised of a cylindrical lighting column made of galvanised, thermo-coated steel onto which a bracket with an aluminium tie rod is mounted.