STYLAGE
Style and performance for a new age
Description
If you are looking for an efficient, connected and stylish street light for your city, STYLAGE is made for you! Indeed, this urban luminaire has a classic design with a modern twist that blends into both historical areas and places with more contemporary architecture.
In addition to supporting a circular economy thanks to its recyclable components and FutureProof architecture, STYLAGE can be connected for your future Smart city requirements.
To create an elegant environment with a welcoming ambiance in the streets, parks and pedestrian areas of your city, choose STYLAGE!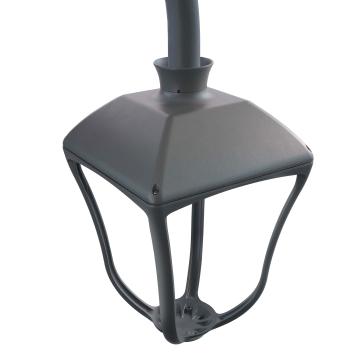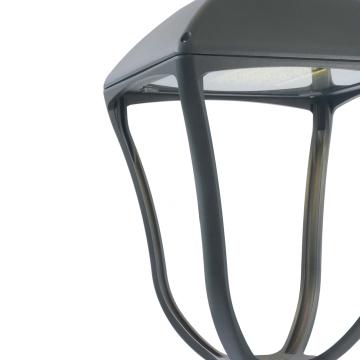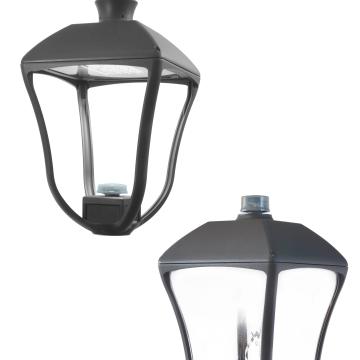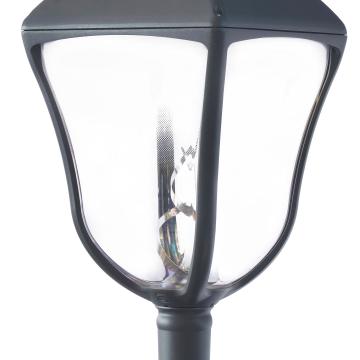 Elegance and ambiance throughout the city

STYLAGE is designed for various configurations: post-top, suspended or wall-mounted. This versatility offers many opportunities to provide elegance, ambiance and comfort in various urban areas. From narrow and pedestrian streets to squares and parks, this contemporary lighting solution enhances the citizen experience while meeting all technical requirements.

Your ally to reduce light pollution

The flat glass protector of the STYLAGE urban luminaire provides a sharp cut-off light distribution to direct the light only where it is needed. This modern luminaire boasts a 0% ULOR (Upward Light Output ration) to ensure landscapes with high visual comfort and minimal light spill. Recognized by external certification bodies, STYLAGE is certified by the International Dark-Sky Association as a Dark-Sky friendly lighting solution.

Connected urban street light

STYLAGE is a connected-ready urban lighting solution. As an option, this luminaire can be equipped with a NEMA or Zhaga socket to easily integrate various connected lighting systems and provide multiple lighting control features for greater adjustment and cost savings.

Reminiscent of a gas-jet lamp

The large semi-sanded protector version of STYLAGE is available with an aluminium flame to emulate the gas-jet lamps of the last century. At night, this creates a decorative effect as when you approach the luminaire, the flame appears to flicker due to the reflections on the aluminium surface.
Supporting a circular economy
Thanks to its recyclable components, the STYLAGE street light minimises waste.
Moreover, both the LED engine and the electronic assembly can be replaced to take advantage of future technological developments and to follow the basic principles of circular economy.
Get your starlit sky back
The International Dark-Sky Association (IDA) is the recognised authority on light pollution. It provides tools, ressources, and a certification program for industries and companies willing to reduce light pollution. At Schréder, we are convinced that a more responsible lighting has the potential to preserve the environment. We are fully committed to reducing light pollution by joining the IDA's certification program. Our approved range of luminaires complies with the IDA's program of approval to deliver a light that protects the environment in all respects. Get your starlit sky back with the STYLAGE lighting solution.
Characteristics
General Information

Recommanded installation height (m)

Meets IDA Dark Sky requirements when fitted with a clear protector
Electrical information

Electrical class

Nominal voltage

Socket option(s)

Associated control system(s)

Sensor(s)
Performance

Luminaire output flux (lm)

Luminaire efficacy - up to (lm/W)
Optical information

Colour rendering index (CRI)

Upward Light Output Ratio (ULOR)

ULR

ULOR 0%: only for flat glass version.

ULR may be different according to the configuration. Please consult us.

ULOR may be different according to the configuration. Please consult us.

Meets IDA Dark Sky requirements when fitted with LEDs of 3000K or less.
Housing and finish
Lifetime

All configurations

Lifetime may be different according to the size/configurations. Please consult us.
Operating conditions
Dimension and mounting

Dimensions and mounting

AxBxC (mm | inch)

373x705x373 | 14.7x27.8x14.7

Mounting possibilities

Post-top slip-over – Ø60mm
Control systems
Control options for STYLAGE
The STYLAGE street light is available with the following dimming options:
• Bi-Power
• Custom Dimming Profile
• AMPDIM
• 1 - 10V
• DALI
• Remote management

As an option, this luminaire can be equipped with a NEMA or a Zhaga socket for more connectivity options.
Control link
Installation and Maintenance
STYLAGE can be adapted to all outdoor spaces, from narrow streets to large avenues thanks to its versatile mounting. STYLAGE is designed for post-top mounting on a Ø60mm or ¾'' gas spigot. A suspended version with a 1'' female or ¾'' gas fixation is also available, including mounting possibilities on a wall bracket.
To facilitate mounting, the STYLAGE street light can be delivered with a pre-fitted electrical supply cable.
Poles and Brackets
The STYLAGE urban luminaire is available for post-top mounting on a modern column in thermo-formed aluminium or with a bracket for suspended mounting.