GL2 COMPACT
Compact, powerful and efficient LED tunnel lighting solution
Description
GL2 COMPACT is a flexible tunnel lighting solution providing high-energy efficiency for operators while ensuring comfort and safety for motorists. The GL2 COMPACT luminaire is the perfect fit to light the entrance, interior and exit zones of road and motorway tunnels. It is also suitable for underpasses, sports facilities and industrial buildings. This LED luminaire offers a high level of protection against corrosion, impacts and vibrations, guaranteeing long lasting performance. The electronic components are easily accessible, allowing quick maintenance operations. With recyclable components and a low carbon footprint, this tunnel lighting solution contributes to your sustainability objectives. The GL2 COMPACT can be equipped with an integrated luminaire controller (Lumgate) for automated commissioning and bi-directional controls (option).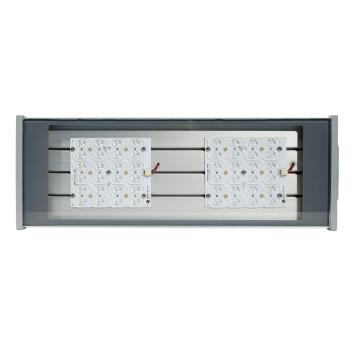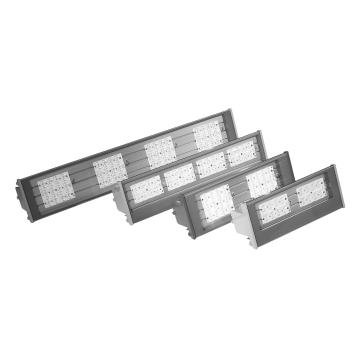 State-of-the-art tunnel technology

A minimal total cost of ownership was the driving force behind the development of the GL2 COMPACT range. It offers various dimming and remote management options for a dramatic reduction in energy consumption, as well as for real-time information on the status of the installation. Thanks to the symmetrical and asymmetrical light distributions, GL2 COMPACT helps you achieve an optimal result.

Perfect fit for your needs

GL2 COMPACT is a flexible tool available in 5 sizes and with various lumen packages, designed to light the different areas of a tunnel. The GL2 COMPACT luminaire can be adjusted on-site to maximise the photometric performance. This flexibility ensures that the light distributions are specifically adapted to the real needs of the area to be lit and optimises the scheme to decrease the number of fixtures needed.

The utmost tunnel safety

GL2 COMPACT dramatically improves visibility in a tunnel, reducing the risk of accidents and critical incidents by enabling the motorists to notice dangers in due time and take the necessary actions to avoid them.

Reliable and sustainable solution

Designed to offer long-lasting performance, GL2 COMPACT is a sealed luminaire with a body protected by electrolytic oxidation. To optimise heat dissipation, the heat sink is incorporated into the body. GL2 COMPACT can withstand harsh conditions, including a high degree of humidity and a wide range of ambient temperatures.
LensoFlex®2 engines for performance and comfort
GL2 COMPACT luminaires are equipped with second generation LensoFlex®2 photometric engines. This system is based upon the addition principle of photometric distribution. Each LED is associated with a specific lens that generates the complete photometric distribution of the luminaire. It is the number of LEDs in combination with the driving current that determines the intensity level of the light distribution.
Characteristics
General Information

Recommanded installation height (m)

Compliance
Electrical information

Electrical class

Nominal voltage

Associated control system(s)
Performance

Luminaire output flux (lm)

Luminaire efficacy - up to (lm/W)
Optical information

LED colour temperature

Colour rendering index (CRI)
Housing and finish
Lifetime
Operating conditions
Dimension and mounting

Dimensions and mounting

AxBxC (mm | inch)

GL2 COMPACT 1 - 193x137x338 | 7.6x5.4x13.3

GL2 COMPACT 2 - 193x137x468 | 7.6x5.4x18.4

GL2 COMPACT 3 - 193x137x538 | 7.6x5.4x21.2

GL2 COMPACT 4 - 193x137x718 | 7.6x5.4x28.3

GL2 COMPACT 5 - 193x137x1058 | 7.6x5.4x41.7

GL2 COMPACT 2 LUMGATE - 193x137x468 | 7.6x5.4x18.4

GL2 COMPACT 4 LUMGATE - 193x137x718 | 7.6x5.4x28.3

GL2 COMPACT 5 LUMGATE - 193x137x1058 | 7.6x5.4x41.7

Weight (kg | lbs)

GL2 COMPACT 1 - 4.0 | 8.8

GL2 COMPACT 2 - 5.3 | 11.7

GL2 COMPACT 3 - 6.0 | 13.2

GL2 COMPACT 4 - 7.5 | 16.5

GL2 COMPACT 5 - 11.5 | 25.3

GL2 COMPACT 2 LUMGATE - 5.0 | 11.0

GL2 COMPACT 4 LUMGATE - 7.5 | 16.5

GL2 COMPACT 5 LUMGATE - 11.5 | 25.3

Mounting possibilities

Direct mounting on cable tray

Direct mounting on ceiling
Control systems
Control options of GL2 COMPACT
The GL2 COMPACT tunnel lighting solution has the following dimming / control options: · DALI · 1-10V · Custom dimming profile · Bi-power · Remote management GL2 COMPACT is compatible with the Advanced Tunnel Solution (ATS) from Schréder. This smart control solution has been designed to adapt the lighting level according to conditions in the tunnel, to monitor the power consumption and to report any failures.
Control link
Installation and Maintenance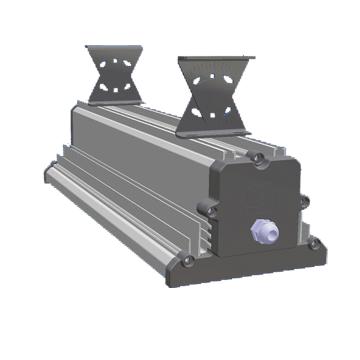 GL2 COMPACT can be used in various mounting lay-outs. For instance, it can be suspended or fixed directly onto a cable rack. A tiltable bracket allows a precise on-site setting to obtain the required photometry on the road as well as on the tunnel walls. This very versatile luminaire is designed to be used in all types of tunnels, whatever the height and the number of lanes.
Easy access for maintenance
The electronic components are fixed on a drawer gear plate accessible by opening a side cap equipped with a reusable gasket. It provides an easy access for maintenance while ensuring that the high tightness level remains uncompromised. The side cap is equipped with a quick-on connector for a fast, reliable and tool free connection of the mains cabling system.